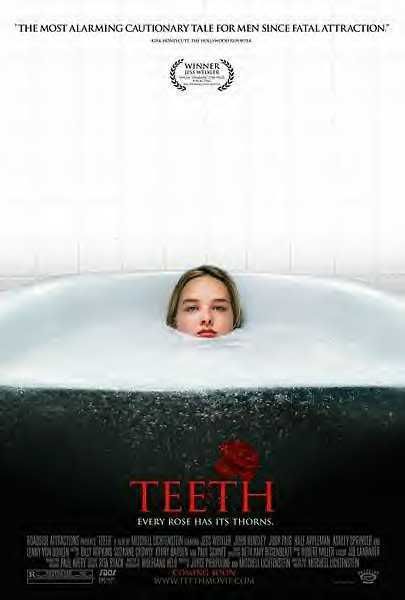 DIRECTED BY
Mitchell Lichtenstein
STARRING
Jess Weixler - Dawn
John Hensley - Brad
Hale Appleman - Tobey
Josh Pais - Dr. Godfrey
Ashley Springer - Ryan
Genre - Horror
Running Time - 98 Minutes
Score - 3 Howls Outta 4
It's rare to find to a horror film that has the ability to stand out from the rest of its kind. How many times can we count vampire films? Or werewolf films? Or ghost stories? Or films with a killer in the woods? They've been done countless time to the point where most of them are just pale imitators of each other, all done to make a profit. The fact that we have so many sub-genre of horror proves my point.
But sometimes, someone is brave enough to come up with something so unique in its plot and premise that you have no choice but give it your full attention. Now you have no idea whether the film is good or bad, but what it's about definitely makes you want to watch it regardless. So many horror films come and go that fly under my radar because they sound like another version of a better film I've seen in the past.
But TEETH, about a virginal teenage girl whose vagina has a set of teeth that like to bite, definitely hit me in the face so many times that I had to see this film. And boy, am I pleased that I did. While TEETH isn't perfect and doesn't do all it can to raise the bar completely, it's still one of the better horror films I've seen in recent years.
PLOT
Dawn (Jess Weixler) is the kind of girl you'd take home to mom. She's blonde. She's cute. She's a born leader. She's a virgin. She lives in beautiful suburbia with her mom, step-dad, and unruly stepbrother Brad (John Hensley) behind a pair of nuclear cooling towers. What can be so wrong about this picture? Apparently a lot.
Dawn's mom is really sick. Brad won't talk to her unless she's willing to give him the sex he's been dreaming about for years. No one seems to be taking her purity status seriously as several potential boyfriends force themselves on her. The latter situation only gets worse [or better depending on how you see it] because Dawn's vagina has a set of teeth that seem to chomp on whatever [or whoever] is inside of Dawn...down there. Yep, just your old-fashioned wholesome horror film.
REVIEW
TEETH is one of those films that I won't be forgetting about for a while. I mean, it's a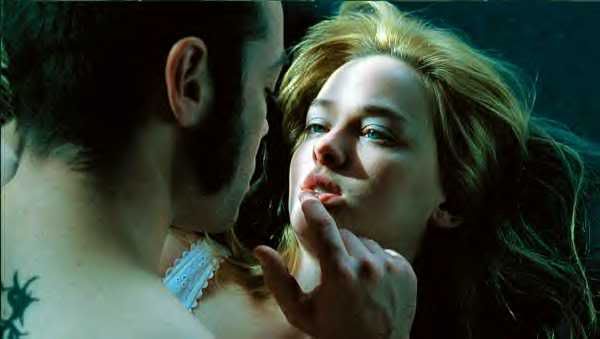 bout the coming of age story of some girl who has a vagina with teeth! That's not something you hear about or see every day. As a man, it's a nightmare to find out that the girl you're screwing has choppers where they shouldn't be until it's too late to save your baby-maker. Hell, it's downright traumatizing. And the fact that the film actually showed the aftermath a couple of times made me not only cringe in horror, but had me balling into fits of laughter that most comedies these days have failed to do.
I really thought the script was actually pretty clever for the most part. The characters were developed pretty darn well, especially Dawn, whose "female empowerment" was believable once she realized the power she had with her "gift" below. It's her story and you know her very well, rooting for her the entire way especially when she's being taken advantage of by some wolves in sheep's clothing. The fact that Dawn was preaching abstinence was a nice touch [and it makes sense], and the whole idea of wearing red rings on your finger that kind of looked phallic [Freud would have a field day with this] made the whole thing pretty funny and ironic.
I did feel that the male characters [besides the step-father, who along with the mother, were the only two normal people in the entire film] were written to be real creeps. Now I know the story has to establish Dawn as a victim of her sexual urges, being treated as a object by devious men, and of her toothy vagina - but it made things a bit TOO obvious and kind of felt forced. I'm not gonna lie. Men think about sex all the time, even when we try not to. If we really like someone, the urges will definitely be there. But not every dude is so keen on forcing themselves on a girl who is saying "No!".
And what about that gynecologist? What a creep! Pervs like him usually drug the patient before getting that extreme with the examination. This guy had the balls to do it when Dawn was awake. Brad, the step-brother, treated his girlfriend like a dog and pretty much pictured that she was Dawn while screwing her. Brad wouldn't e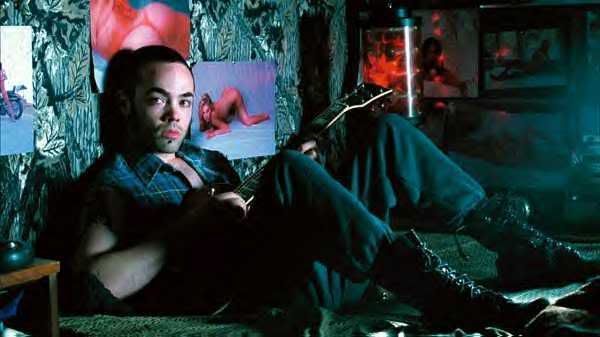 ven talk to Dawn until she was ready to ride him. I don't think even
The Brady Bunch
was this messed up sexually. But the dude who made a bet with his friend to screw Dawn and actually admitted it while he was in the act with her deserved to be a eunich. What a fool. Yeah...talking to your buddy about a bet you made about the girl who you're screwing right in front of her is really smart. Hope it was worth losing your penis! And I won't even get to the old dude at the end. Just proves that perversion is multi-generational. I just felt this type of characterization was TOO one-sided. There should have been at least some dude who was nice and kind - one who didn't have evil intentions in mind. But no one here fit that bill.
Some call this a sexist film and I agree. The men totally got the shaft here [no pun intended]. And was this really a "empowerment" film for women? Dawn was just as bad as the men towards the end, screwing them just to make her point. It takes away the fact that she's a victim of her body and her situation, becoming a predator that's pretty much an equal to the men who do her wrong. Yes, some people can see this as having power and taking control, but is she better than the men she's doing this too? To call this a revenge flick is one thing. But to say this is a story of "empowerment"? I'm not really sure. She always had the power with her "gift" over the men to begin with. She didn't gain anything. She just decided to use it as a defense mechanism. I guess it's up for debate.
Plus the whole vagina dentata thing never was any deeper than that. She had a vagina with teeth, obviously from the power plant nearby that was shown more times than it should have been [after the tenth time, I understood okay?]. And she used it on guys who did her wrong. But other than that, there was nothing more to the whole thing. It pretty much coasted on the premise and didn't deliver that climax I was looking for. I think a lot more could have been done with this film, but that's just me. At least what TEETH did do, it did really well.
The direction by first-time filmmaker Mitchell Lichtenstein was good. It wasn't really stylish in terms of shots or storytelling at all. In fact, I found Lichtenstein's work to be so subtle that it made the film seem like "
whatever
". And that's not a bad thing because it made those cringe-worthy moments and the black humor stand out a lot more because of its quietn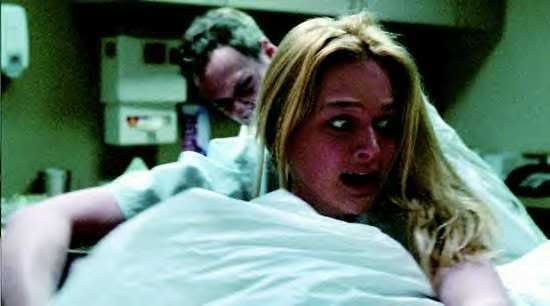 ess. Hopefully he'll continue making films, although it's gonna be hard to top a film about a girl with a vaginal teeth.
The acting was very good. Jess Weixler as Dawn was the star of the show and totally blew me away here. I bought her character from her naive and innocent beginning to her worn-down and vindictive end. She was cute. She was smart. She was charming. You can sympathize with her. Weixler did a really awesome job conveying Dawn's journey. She took the role very seriously and didn't play it as if she was in on the joke. There's a realness in her performance that totally made everything she said and did work. Weixler is the film and she's carries it on her shoulders like a champ. The supporting characters were less developed but the actors did well with what they were given. Nip/Tuck's John Hensley creeped me out as Dawn's step-brother, Brad. He was the first victim of Dawn's snatch attack when his finger got bit when both were younger. Ever since, Brad wanted a piece of that vagina and hated the fact that the girl he wanted eventually became his sister. He was an asshole who treated women like crap and all he cared about was drugs, booze, and sex. Hensley played it believably and I kind of felt sorry for him, even though he was a massive tool. His scene at the end with Dawn cracked me up, you have no idea. Ashley Springer, Josh Pais, and Hale Appleman play Dawn's victims and all do a good job in their short roles. All deserved their fates. It's just too bad there wasn't a guy here I could relate to.
While never taking it to another level beyond the simple premise, TEETH is still a horror film that's worth more than a watch. It's funny. It's gross. It has a chick with a toothy vagina. Seriously, where else are you gonna see that? Check it out because this film definitely deserves an audience. Now if you'll excuse me, I'm putting my red ring on. I'll be damned if I lose my boy down there...