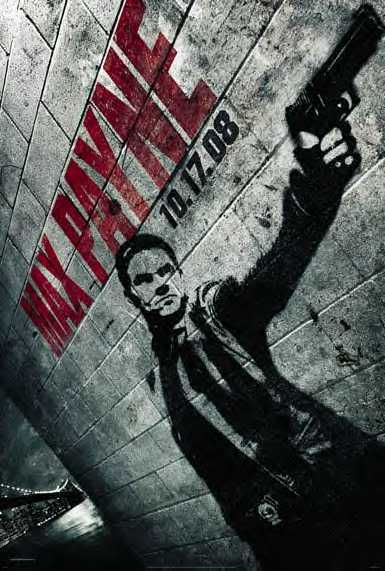 DIRECTED BY
John Moore
STARRING
Mark Wahlberg - Max Payne
Mila Kunis - Mona Sax
Beau Bridges - BB Hensley
Chris "Ludacris" Bridges - Lt. James Bravura
Olga Kurylenko - Natasha Sax
Chris O'Donnell - Jason Colvin
Amaury Nolasco - Sgt. Jack Lupino
Donal Logue - Detective Alex Balder
Genre -
Action/Video Game Adaptation
Running Time -
99 Minutes

Score -
2 Howls Outta 4
PLOT
- Based on the video game,
MAX PAYNE
is about the title character (
Mark Wahlberg
) being haunted by the murders of both his wife and baby daughter to the point where he's obsessed in finding out who murdered them. On one of his leads, he meets some slutty future Bond Girl named Natasha Sax (
Olga Kurylenko
), who takes to his apartment. Kicking her out after she tries to get all over his Funky Bunch, Natasha is found dead the next morning. Detective Alex Balder (
Donal Logue
) notices that Natasha shares the same winged tattoo that one of Max's wife's killers sported, putting two together - that is until he's found dead too. The police, especially Lt. James Bravura (
Chris "Ludacris" Bridges
) believes that he's the prime suspect for both murders and begins to follow him. Searching for the real killer, Max is joined by Natasha's groovy sister, Mona (
Mila Kunis
), finding out that the winged tattoos are the mark of the Valkyries - no, not that chick from Guantlet, but the angels of the battlefield in Norse mythology. Apparently the victims end up seeing these Valkyries by taking some messed up drug called Valkyr, created by some pharmaceutical company called Aesir to create super-soldiers. Apparently Max's wife was involved in the project, bringing Max closer to the truth behind his family's murder.
REVIEW


STORY - I've played the Max Payne video games and liked them alot. The "bullet time" technology and the story of revenge grabbed me to the point where these games were actual cinematic features all their own. It just surprises at how difficult it really is to take a concrete story like MAX PAYNE and pretty much butcher it when it comes to a film adaptation. We've seen it countless times before. Why are video-game-to-film adaptations so damn hard to get right? I'm still waiting for that video game flick that's gonna top MORTAL KOMBAT. And that was almost 14 years ago, Hollywood!

MAX PAYNE's weakness is definitely the story. There are so many plot holes in this flick that I almost fell to my death trying to connect the pieces together in order to make sense of it all. What should have been a simple revenge flick, like DEATH WISH, is turned into a supernatural mess involving drugs and Valkyries. Now I love that kind of stuff, but it just didn't feel all that right to me in this film. Plus in an action flick, I'm expecting wall-to-wall action. Nope, we barely get action sequences going in this film. I dunno, the supernatural stuff and the revenge story never seemed to add up the way it should have. I wasn't sure what this film was trying to be. Are you trying to be DEATH WISH? Or are you trying to mindfuck me like JACOB'S LADDER? Which one is it?

Also, the characters were really used horribly in this flick. What was the point of the Sax sisters in this film again? Okay...they're hot bangable babes. But other than that, they just seem to be in the film just to be...there. They really didn't add all that much in the end, now that I think about it. And the mystery of the film was so predictable that I ended up being almost bored for the film to actually reveal it. Too much exposition, not enough action, and a film made with style-over-substance makes MAX PAYNE a very mediocre flick when it should have been a lot better.

DIRECTION - Well here's the one area where the film mostly succeeds. John Moore really gave MAX PAYNE a visual flair, as I bought the film noir-ish elements in the film. The cinematography was beautiful. The Valkyr effects were really cool. I liked the use of "bullet time" during certain scenes. Nice angles, edits, and style all around. Too bad the pacing could have been a bit better because I was expecting more action than I was let on. But the film looks fantastic and I can't really complain about this area of filmmaking at all.

VIOLENCE/SEX/LANGUAGE [aka THE GOOD STUFF] - For such a violent and edgy video game, MAX PAYNE was given a pretty tame film adaptation. The unrated version shows a bit more but it's still barely an R rating. We have the standard foul language. We have a lot of violence involving Valkyries, gunfire, and other stuff. And there are certain sexual situations but nothing to really talk about. This type of film could have used more edge, I thought.

ACTING - While the characters were pretty lame in this film, the acting wasn't all that bad. Mark Wahlberg looked the part and had the presence for the role, but I've seen him do better than this. Maybe the script didn't live up to Wahlberg's full potential. He was good though. Mila Kunis can act but she's just paid here to look hot instead. Pretty sad. Chris "Ludacris" Bridges tried but I couldn't buy him as a cop. Bad casting I thought there. Beau Bridges did okay although his arc was overly predictable. Amaury Nolasco did good but wasn't used enough. And I liked Chris O'Donnell in his short role. Still doesn't erase BATMAN & ROBIN, but he did good. And was that really Nelly Furtado in one of the scenes? Wow...

MUSIC - Marco Beltrami created a nice score for the film. It matched the bleakness of the film very well. Probably made the atmosphere of the film better than it should have been.

THE FINAL HOWL
While no MORTAL KOMBAT, MAX PAYNE isn't STREET FIGHTER either. Pretty average flick that should have been edgier and better in general. The film leaves it open at the end but I hope this is the end. Lack of action, a convoluted story, and poorly written characters hinder MAX PAYNE. Watch it for the fantastic visual style but not much else.